One of the biggest struggles that writers have is consistency. In the beginning, when you decide to transform your idea into a novel, you might sit down and write for 2-3-4 hours four times a week for a month, but then life gets in the way and you realize it's been weeks since you haven't written a single word. It can be tough to be consistent, but a consistent writing practice is how you start to really see results, both in your story development and an increase of your skills as a writer.
Here are some of my tips for creating a consistent writing practice:
Don't worry about word count
Let's be honest. Your professional and professional life gets crazy busy from time to time, or maybe even more often than that.
If you think you need to write for three, four hours to see progress, you're more likely to skip out. Remind yourself that even a 30 minutes practice is better than not writing at all.
And brief sessions can help you keep up with any progress you've made. If you're like me, your characters talk to you all day. I just chose the loudest one in the morning and during the day the POV tells me all about one specific scene. I sit down and write it. 900-1000 words. One session. Done for the day.
Commit to writing a little almost every day and consistency will come naturally.
Write everywhere
Writing on a mobile device comes in handy when you're short on time. Notes you can take in a notebook, but writing a scene, details about a character or location is easier with a digital tool. The common understanding of write everywhere is use a solution from Google Docs to a writing software that is responsive.
I'm not talking about that. I'm talking about writing everywhere inside your house when you get your hands free. Ideally write at a desk, but write when you talk on the phone, when you're in a boring Zoom conference, on the toilet. Write.
Invest in your writing instead of anything else
The things you have at your disposal to invest are time and money. What you should invest in is software and learning.
You can't be a writer and you should stop reading this (also not sorry for being blunt) if you don't see yourself as an inquisitive mind on a path of continuing learning. There is no place for more water in a full glass. There is nothing new for you to learn here if you think you know everything.
Learning about the skill of writing never stops. Lately I am investing my time in one of the most interesting free courses online. Brandon Sanderson is the one sharing his knowledge and experience. I would love to also learn from others, but I invest my money elsewhere: in improving Asengana and building new tools for writers.
As for money, when you write using free tools, remember that the price is much higher than the monetary value you're willing to pay. There are no free tools. You pay with your personal data. You pay with your digital life and quite a sizeable chunk of real life and free will.
The digital tools for writers cost money and they offer you privacy and save you time and money. There many tools out there for every type of writer. Asengana is for those that want to plan, be organized, and more efficient. There are also tools that allow building better virtual worlds. Each tool has a strength.
Find the one that works for you and pay the price. I know the amount of work needed to build, maintain, and develop digital tools for writers first hand. By testing most of the writing tools available online, I can tell that all are a bargain.
Would you rather spend money on a monthly subscription to watch movies based on other people's books or use that money to write better and faster?
Treat your evolution as a writer the same way you would your story hero's journey
Life has meaning when you work towards a goal. The part of your life, which is the writer's life is your hero's journey. Everything else outside it is influencing the result: you being a writer that finishes writing a book.
Stop finding excuses. Stop invoking writer's block as a reason to stop writing completely. If you plan and have an actual plot and structure, the writer's block will manifest at scene level. When it happens, you just move to a different scene and keep writing.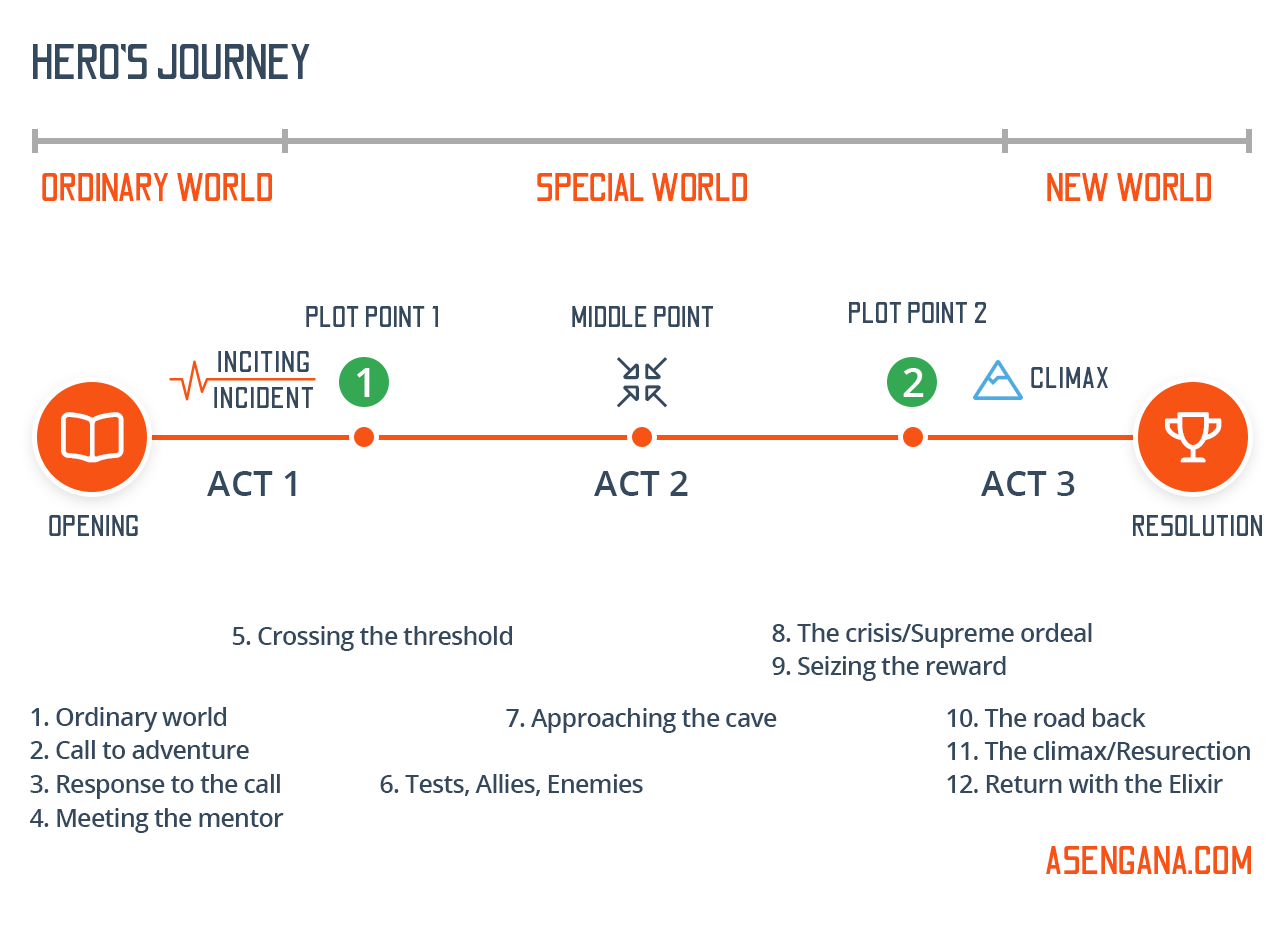 Track your progress
Monitoring your word count is nice, but is not the same with tracking your progress. Word count in itself is not enough. You need to set a starting point and a delivery date, a number of words you estimate your story will have based on the plot points and number of scene you planned for. Use all this information for a burndown chart so you can track your progress and be able to see how many words you write every and how many you should in order to finish as planned.
Life is not endless nor should writing a book.
And yes, you have this in Asengana and other analytics tools that will help you monitor your progress and improve your writing.
The prerequisite for all this advice is that you planned already. For me it works because I already created my characters, locations, settings, done my research, decide on the plot and created my number of scenes. Sounds like a lot of work, right? It is. It's also why I use Asengana to get all this fast and efficient out of the way of my genuine joy which is… just write.